6 Ways How ILM Qualifications Enhance Your Professional Portfolio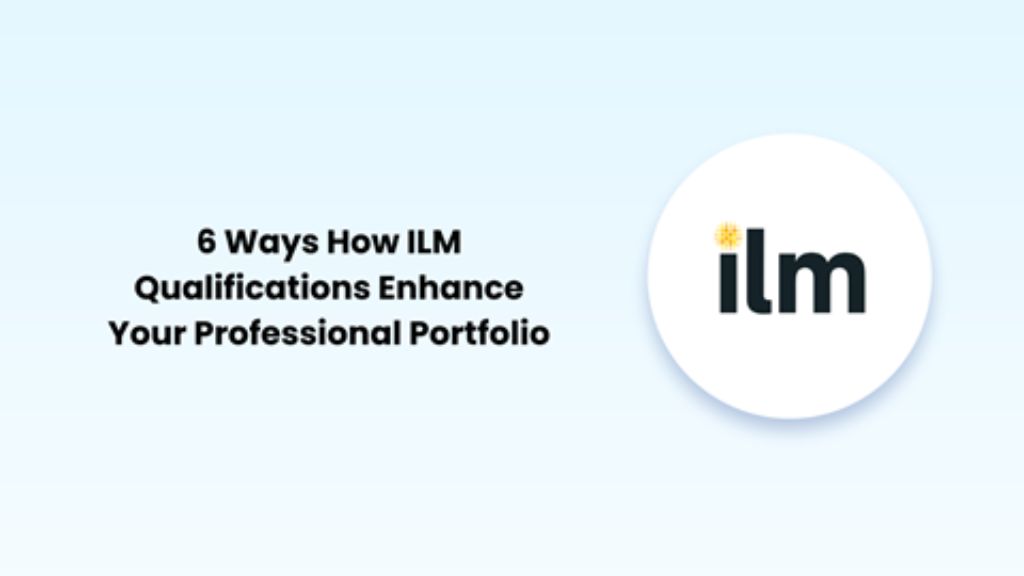 Maintaining your competitive edge and progressing in your career are of the utmost importance in today's dynamic business environment.
Earning a certificate from the ILM (Institute of Leadership and Management) is a great way to boost your resume and open up new career prospects. These certifications are in great demand because of their reputation for improving candidates' leadership and management abilities.
This blog will explore six ways earning an ILM Qualification may greatly improve your professional standing and job chances. The advantages of pursuing either ILM Level 2 Training or a more advanced certification remain significant.
Capabilities in Management and Leadership Development
ILM certifications are well-known for their dedication to helping candidates grow as leaders and managers. These courses provide an organised and thorough education in various management and leadership-related subjects. When you take part in an ILM qualification, you'll be able to:
The ideas, philosophies, and best practices of leadership and management are taught in depth in ILM programmes. You will gain knowledge on how to manage effectively, how to build cohesive teams, how to resolve conflicts, and how to map out long-term goals.
Practicality and relevance to real-world situations are fundamental goals of ILM education. You can put what you've learned into practice by addressing real issues facing your company.
Mentoring and feedback from seasoned leaders and managers are common in many ILM courses. Advice like this might help you become a more effective leader.
Understanding oneself is a crucial first step in developing leadership and management skills. You may learn more about your strengths and weaknesses by taking an ILM assessment and reflecting on your performance.
Enhancement of Determination and Problem-Solving Abilities
Complex challenges and choices with far-reaching consequences are often thrown at leaders and managers. Earning an ILM credential will give you the knowledge, abilities, and frame of mind to face these problems successfully.
The analytical and critical thinking abilities taught in ILM programmes are second to none. You will learn to think clearly under pressure, weigh your alternatives, and choose wisely.
Frameworks and techniques for problem-solving are often introduced in ILM courses, offering a systematic way to approach problems and identify answers.
The ability to assess danger is essential for making sound choices. Decision-making is bolstered by the risk assessment and management skills taught in ILM certification programmes.
Leadership and management should always have ethics in mind. When you enrol in an ILM programme, you can be certain that ethical principles will guide your decisions.
Superior Interpersonal and Communication Abilities
Leaders and managers who communicate effectively with their teams and employees are more likely to achieve their goals. These essential abilities are the subject of ILM certifications.
The art of communicating effectively is emphasised in ILM courses. Effective communication skills can help you avoid unnecessary arguments and miscommunications by getting your point across more clearly.
Active listening is a fundamental part of every successful conversation. The active listening skills you learn in ILM training can help you better understand people and strengthen relationships within your team.
Any job has the potential for conflict. Certification in ILM teaches useful methods for settling disagreements in a way that benefits everyone involved.
Leaders and managers need to be adept negotiators. Methods and strategies for negotiating win-win agreements are covered in ILM courses.
Credibility and Acknowledgement
Certification from the ILM is highly esteemed in the business sector. Employers highly seek graduates of ILM programmes after due to:
Regarding leadership and management training, ILM is among the best in the world. ILM credentials are often regarded as among the highest in the industry.
Employers appreciate candidates dedicated to their careers by pursuing certifications like those offered by the Institute of Leadership and Management (ILM).
In the competitive job market for leadership and management roles, having an ILM certification on your CV might help you stand out.
Professionals who want to work in international or cross-border settings might benefit from earning an ILM certificate because of its widespread acceptance.
Possibilities for Professional Progression
The chance to improve one's employment prospects is a major incentive to get an ILM certification. With these skills under your belt, you may be eligible for a wide range of jobs:
Leadership and management roles often need candidates to have ILM certification. If you want to advance in your career or find a new leadership position, completing an applicable ILM programme may help you stand out from the competition.
Higher pay is common for positions of leadership and management. Earning an ILM certification might help you improve your career prospects and salary.
Your chances of being given more responsibility at work increase as your leadership and manager talents improve.
Professionals with ILM credentials have more options to pursue fulfilling careers since they may work in various fields.
Cooperative Work and Professional Development
The ability to network with others in your area is essential to your professional development, and ILM credentials may help you do just that:
Group activities, cooperation, and joint projects are commonplace in ILM courses. Interacting with peers from various backgrounds may broaden your understanding of leadership and management.
You may meet specialists in your field and other professionals at the networking events, workshops and seminars organised by several ILM programmes. The connections you make at these gatherings may be invaluable later in your career.
Mentorship is a feature of certain ILM programmes, allowing you to interact with seasoned professionals who may give insightful feedback on your professional development.
The alumni groups associated with several ILM credentials are rich in opportunities for further professional development and networking.
Conclusion
Getting certified by ILM is a smart move that will help you advance in your career. These credentials provide an all-inclusive bundle of leadership and management expertise, problem-solving prowess, articulate expression, and contacts. ILM credentials may greatly enhance your professional portfolio and drive your career ahead, whether your goal is to move up in your present field, take on a leadership role, or try something completely new.